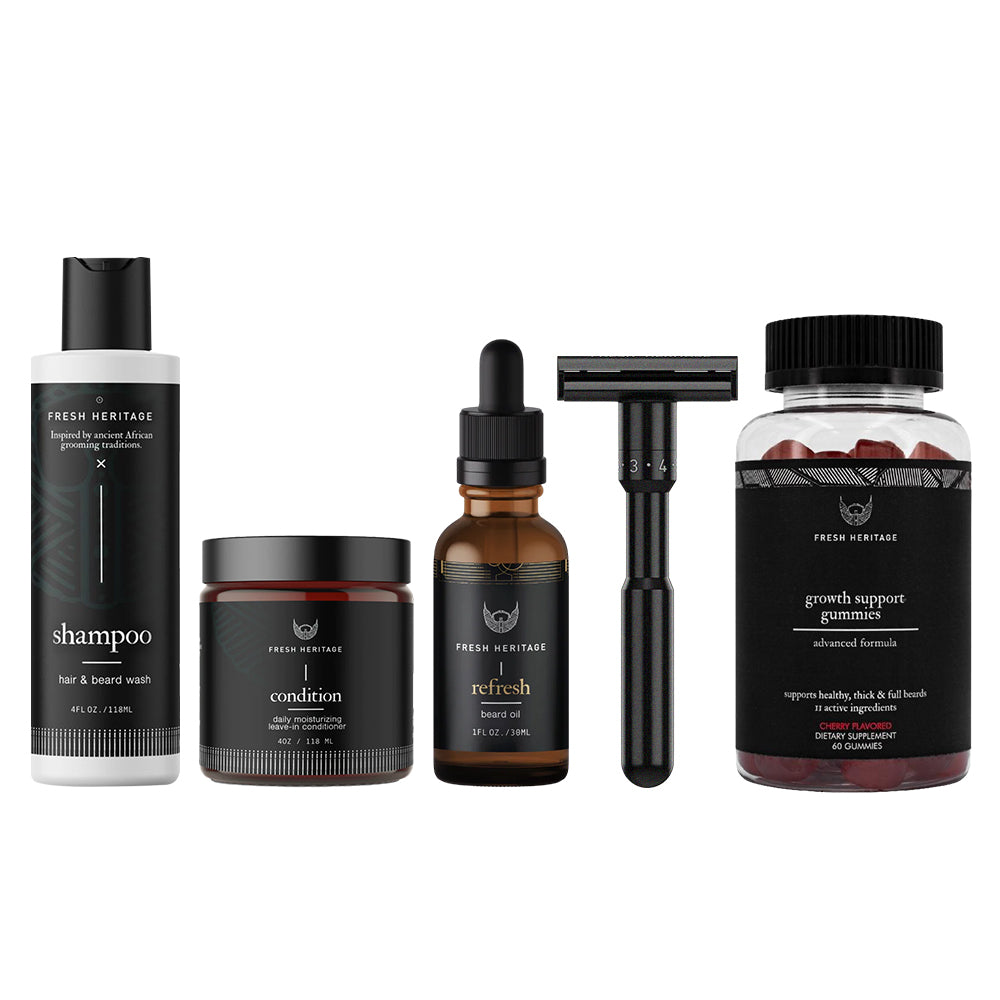 Beard Grooming Kit - The Greatest One
Scent:
Refresh (Floral Notes + Powdery Musk)
100% NO-RISK MONEY BACK GUARANTEE
Grow The Perfect Beard With This Combo Designed To Maximize Results. Our "Beard Shaving Bundle" was created for anyone looking for A Little Boost In Having A Thicker, Fuller, Softer and Moisturized Beard.
We understand that everyone may not be blessed with great genes, so we created this product combo to give you an extra boost. 

Our vitamins gives your body the essential vitamins and minerals that may not be available in your daily diet and then our shampoo, conditioner & beard oil gives your scalp the moisture, herbs and oils it needs to flourish.

You can wash, moisturize, style, and fill your beard (and hair) with the nutrients it needs to flourish while saving money.

Use these four products to to get a healthier, softer, and better beard growth so you look and feel your best. 
**30 Day RISK FREE GUARANTEE: Full refund of the purchase price PLUS we will buy you a competing product of equal or lesser value to replace what you returned.**
Amazing Growth - Thin Spots, Patchy Areas or newly grown beards stand no chance - Fresh Heritage Works Wonders To Thicken and Grow Your Hair
100% All Natural – Our plant-based product heals and moisturizes your scalp, strengthens damaged hair, stops hair shedding, and gives you beautiful, soft and natural hair
Best-In-The-Industry Results – With over 1,500+ 5-Star reviews.  Our customers always send us screenshots & emails about how we've changed their lives.  Get the beard you deserve & join the movement today.
SHAMPOO HAIR & BEARD WASH:

 Clean, Vegan formula that Adds shine & moisture while stimulating fuller hair growth using organic aloe juice, peppermint oil and tea tree oil.

DAILY CONDITION:

 

Daily moisturizing leave-in conditioner that instantly softens hair & reduces frizz with intense hydration from Argan, Babassu, Moringa and Marula Oils.

BEARD OIL:

 

North African inspired formula that give you a softer, thicker and fuller beard in only 2 weeks.

VITAMIN:

 

formula has 28 active ingredients that are specifically designed for MEN who need to slow down hair loss and thinning hair.  If taken daily it can help add back in the nutrients missing form your diet to hep support healthy hair growth with FAST ACTING results.
ADJUSTABLE SAFETY RAZOR: H

as 6 precision settings for comfortable, precise, and intuitive shaving
BEARD OIL SCENT
CLASSIC:

 

Spicy mix of citrus, patchouli and sandalwood. 

 

A seductive & confident scent that people won't be able to resist.
REFRESH: Floral notes blended with a hint of powdery musk. 

 

A refined & refreshing scent that people won't be able to resist.
BENEFITS
Instantly Soften Hair & Reduce Frizz.
Helps Make Thin & Patchy Spots Fuller
Hydrate Coarse Hair So It's Soft And More Manageable 
Women Won't Be Able To Take Their Hands Off Your Beard
Your Beard Will Shine & Look Groomed All Day Long Without Being Too Oily.
The Best Smelling Beard Oil On The Market, The Aroma Last For Hours.