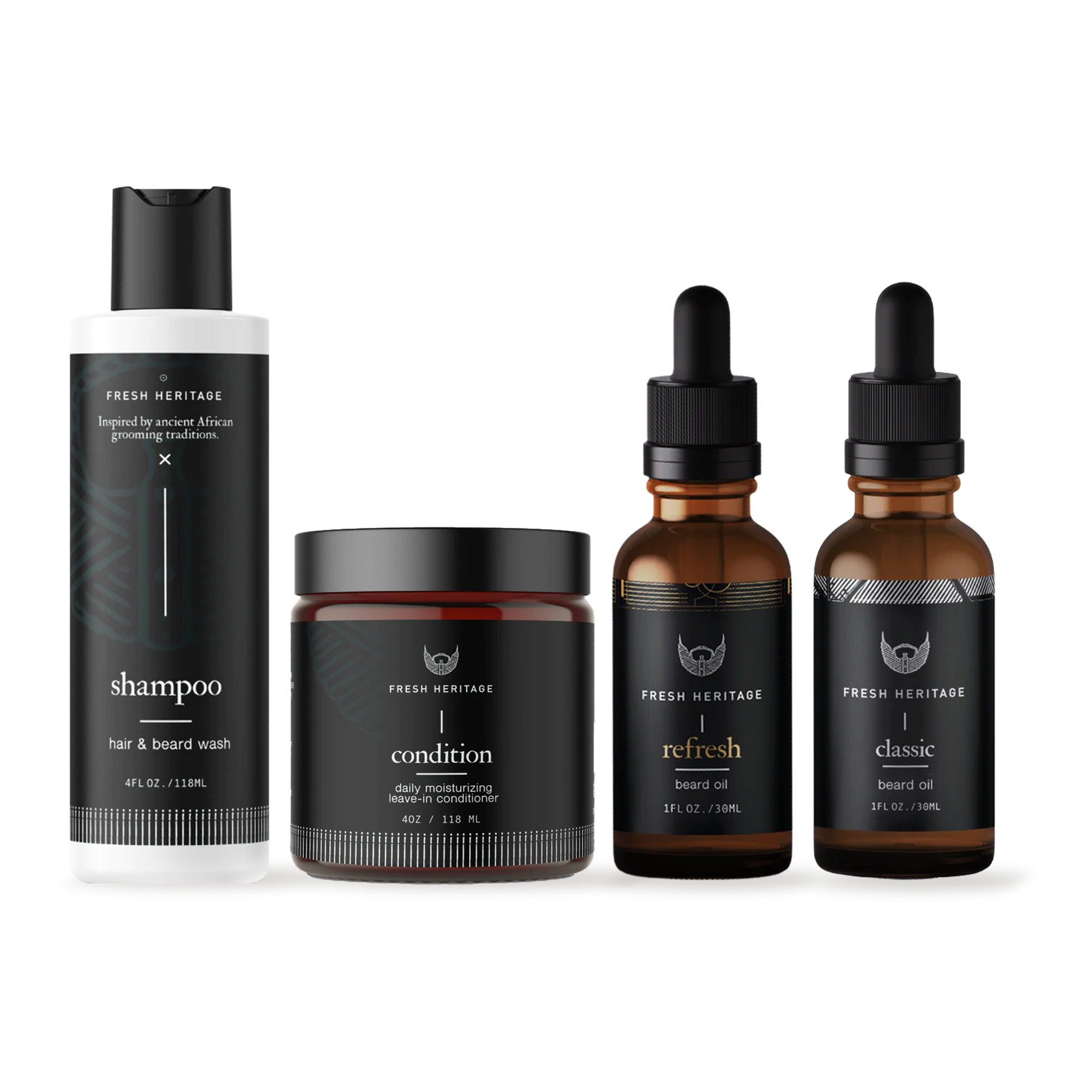 Beard Grooming Kit - The Greater One
Scent:
Classic (Citrus, Sandalwood + Patchouli)
100% NO-RISK MONEY BACK GUARANTEE
Grow The Perfect Beard With This Combo Designed To Maximize Results.  Our best-selling "Great Beard Kit" was created so you can wash, moisturize and style your beard (and hair) in 3 easy steps while saving money.

Use these three products to to get healthier, softer and better beard growth so you look and feel your best. 
**30 Day RISK FREE GUARANTEE: Full refund of the purchase price PLUS we will buy you a competing product of equal or lesser value to replace what you returned.**
Amazing Growth - Thin Spots, Patchy Areas or newly grown beards stand no chance - Fresh Heritage Works Wonders To Thicken and Grow Your Hair
Unbelievable Value – Get a 1 or 2 Month supply for 20% off… start seeing results in 2 weeks
100% All Natural – Our plant-based product heals and moisturizes your scalp, strengthens damaged hair, stops hair shedding, and gives you beautiful, soft and natural hair
Best-In-The-Industry Results – With over 1,500+ 5-Star reviews.  Our customers always send us screenshots & emails about how we've changed their lives.  Get the beard you deserve & join the movement today.
SHAMPOO HAIR & BEARD WASH:

 Clean, Vegan formula that Adds shine & moisture while stimulating fuller hair growth using organic aloe juice, peppermint oil and tea tree oil.

DAILY CONDITION: Daily moisturizing leave-in conditioner that instantly softens hair & reduces frizz with intense hydration from Argan, Babassu, Moringa and Marula Oils.
TWO BEARD OILS: North African inspired formula that give you a softer, thicker and fuller beard in only 2 weeks.
BEARD OIL SCENTS
CLASSIC: Spicy mix of citrus, patchouli and sandalwood. 

 

A seductive & confident scent that people won't be able to resist.
REFRESH: Floral notes blended with a hint of powdery musk. 

 

A refined & refreshing scent that people won't be able to resist.
BENEFITS
Instantly Soften Hair & Reduce Frizz.
Helps Make Thin & Patchy Spots Fuller
Hydrate Coarse Hair So It's Soft And More Manageable 
Women Won't Be Able To Take Their Hands Off Your Beard
Your Beard Will Shine & Look Groomed All Day Long Without Being Too Oily.
The Best Smelling Beard Oil On The Market, The Aroma Last For Hours.
HOW TO USE
STEP 1:

 Use SHAMPOO to Wash Hair (1-2x week)

.
STEP 2: Use CONDITION to hydrate, moisturize and tame hair (daily)

.

STEP 3: Use BEARD OIL to seal in moisture, stimulate growth and add amazing shine.
Beard Grooming Kit - The Greater One