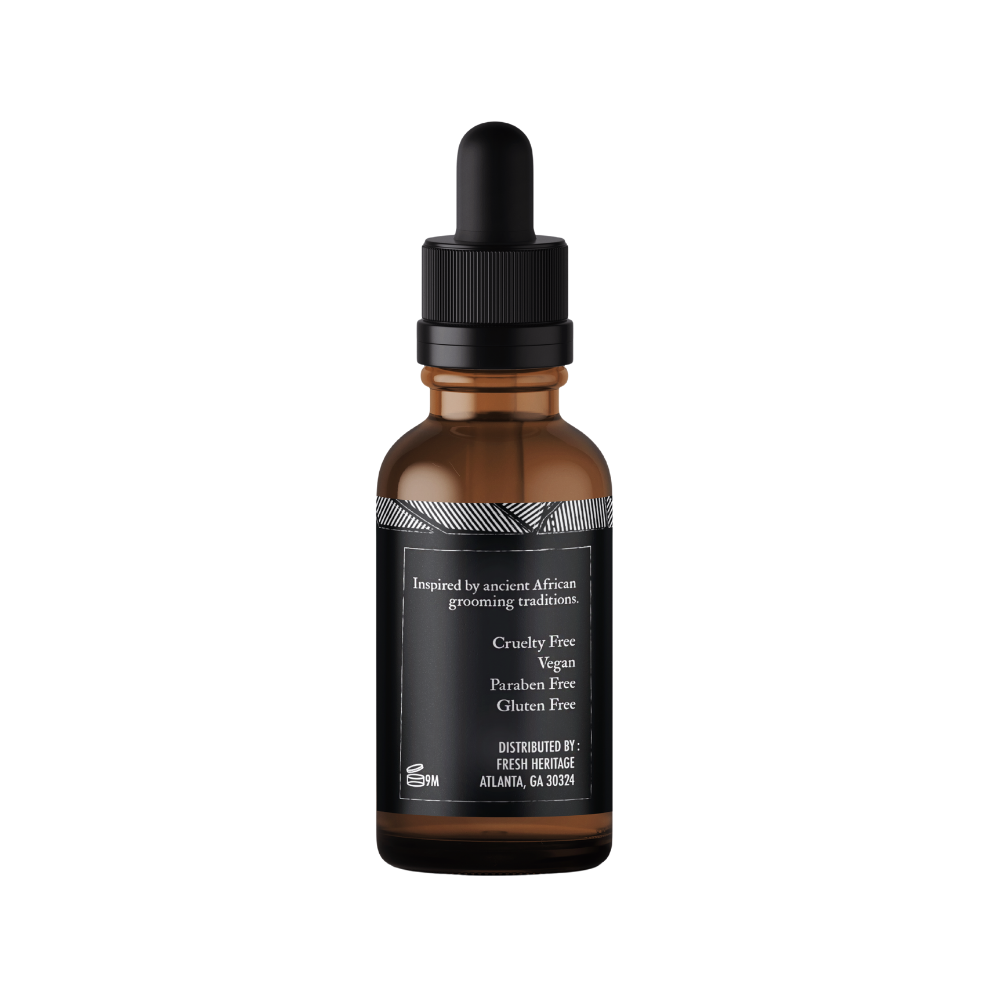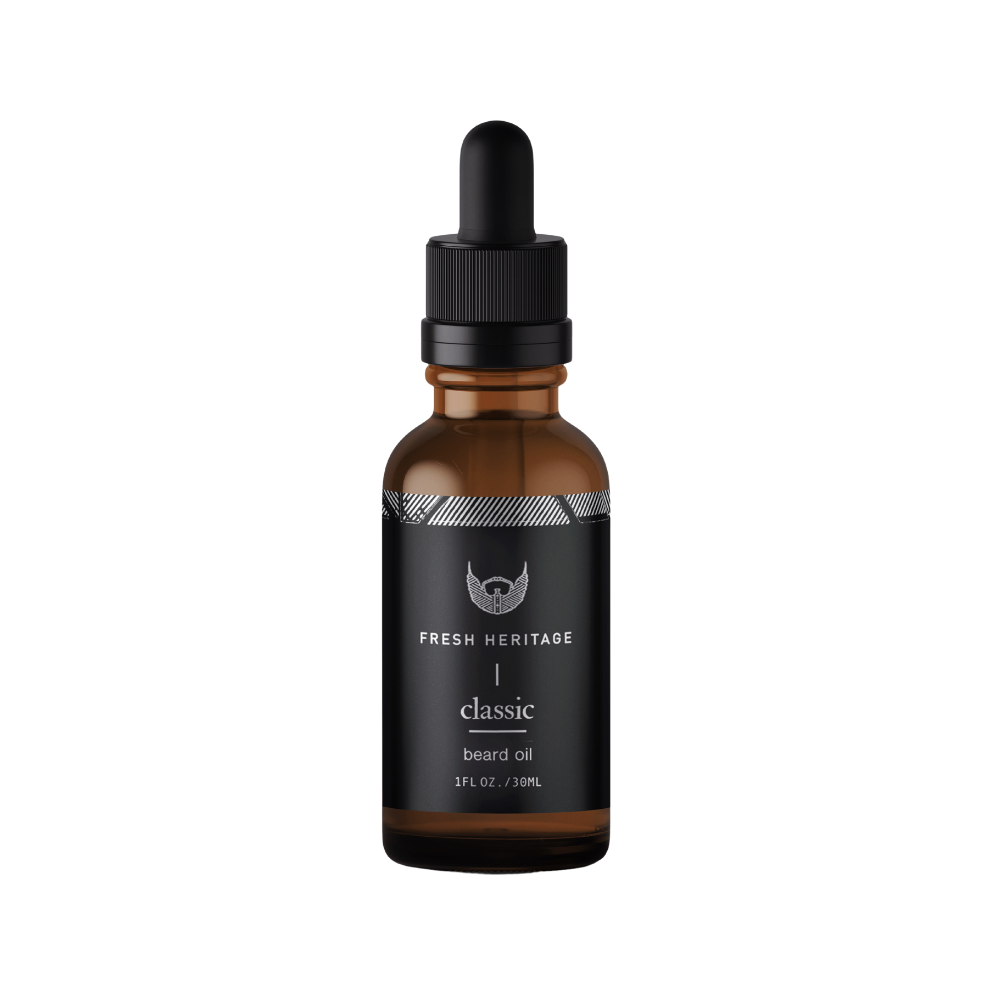 Beard Oil Classic - Wholesale Bundle 12 Bottles
100% NO-RISK MONEY BACK GUARANTEE
1 Case = 12 Bottles Of Our Classic Beard Oil.
- - -
PRODUCT
Who knew a beard oil could smell so good?  The Fresh Heritage Classic Beard Oil uses the best time honored ingredients curated from our African roots to groom today's man. The ingredients are an exclusive blend of premium oils designed to give you a thicker, fuller and softer beard. We designed this specifically for men of color.
We have meticulously blended together four unique scents of peppermint, eucalyptus, essential citrus oil and lavender to create the perfect subtle blend of refreshing manliness. 
The four essential oils we use are very strong and overpowering by themselves so we purposely kept the blend mild, and personal.  The Classic Beard Oil is a very refreshing and subtle blend. This beard oil is like no other.  We design the fragrance to be uniquely personal with a light base, so it doesn't overpower your daily cologne.
Our classic beard oil is our flagship beard oil and we spared no expense or detail to build the perfect base oil including Pure Moroccan Argan Oil, Organic Coconut Oil, Organic Jojoba Oil and Organic Olive Oil.  Our oils won't weigh your beard down or leave a greasy feeling. We use all natural ingredients and essential oils to create the pinnacle of beard oils for men of color.
All Natural Ingredients
Organic Ingredients
Vegan
Gluten Free
Paraben Free
Sulfate Free
Cruelty Free
Ingredients:  
Pure Moroccan Argan Oil
Organic Coconut Oil
Organic jojoba Oil
Organic Olive Oil
Organic Sunflower Oil
Proprietary Blend Of Essential Oils
Sold in a 1 fl oz bottle with dropper. One bottle lasts approximately 2 Months.
How to use: Add five to seven drops to hand then rub into your beard. The best time to add the beard oil to your beard is after showering and before heading to bed.
SHIPPING
Most US based orders are shipped directly from our warehouse within 24-48 hrs for your convenience and maximum efficiency.

Your product will arrive within 7 to 10 Business Days.
Returns Information:
We offer a 100% Satisfaction guarantee or your money back. Please contact us for return requests.

 
#1 Beard Oil
I love Fresh Heritage products. It's an investment you won't regret. I appreciate the hardwork Jamil, Gamal and the team put into creating an all natural and organic non-overpowering scented quality men's beard oil. I just purchased a second wholesale order as well as the grooming kit and I'm excited to see how my beard will transform in the next couple of months.
Self Love is the Best Love. I feel if you love yourself then why not treat your beard with the TLC it deserves, by grooming it with the best beard oil out there Fresh Heritage.
Since using Fresh Heritage beard oil I've received non-stop compliments on my beard. I get asked "What do you put on your beard? I get asked "If I dyed my beard darker? And I just smile and say "No I just put some beard oil on from Fresh Heritage!" I over hear comments like "I see you brother! That beard is shining and it looks good what do you use?" Whenever I'm talking to people I get told that my beard smells amazing! It's both a major confidence booster and humbling experience.
So far in my beard growing journey, I've noticed bald spots filling in quickly. I used to experience itchiness around my chin and neck area. Now I don't feel any irritation in those areas. My beard looks darker, hydrated and healthy.
Fresh Heritage brand to me is an amazing product. I look at reviews and pictures of others transformation on the site and it's really cool and inspiring. I feel it encourages more men to pride in how we look, to learn how to properly apply the oil into our beard and skin so our beards look correct.
I keep a bottle of Fresh Heritage beard oil on me at all times. I appreciate being apart of the Fresh Heritage community and wish lots of good health and prosperity to the creators. Fresh Heritage is the best beard oil on the market. Their new formula is a real game changer. I'm excited to see what other products they come out with in the future.
Happy Black History Month ✊🏽✊🏾✊🏿
Thank you Fresh Heritage,
...